About Us
For a company to get their business recognized in the market, they has to be unique from the others and the uniqueness of our company, Gunina Engineers, can be reflected on the diverse set of products that we provide. Initiated in the year 2017, we have successfully become a leading manufacturer, supplier, importer and exporter of a varied range of products which includes PSA nitrogen plant, oxygen plant, ammonia cracker unit, desiccant compressed air dryer, co2 purification unit and their spare parts like as carbon molecular sieve, nickel catalyst, molecular sieve, activated alumina balls, activated carbon, ceramic balls, panel, silicon nitride balls along with electrical, instrument and mechanical items. etc. The uniqueness in our product range is because of our business ties with numerous industries. Apart from this, we also work as a service provider to give Servicing of Nitrogen Plant, Servicing of Carbon Dioxide Purification Unit, etc. Which is the reason why we have been able to stand out in the crowd and grow our business in the market.

Ethical Business Practices
A company's ethical ways of conducting business not only helps them to work in an orderly manner but as it will increase productivity, they will also be able to grow their business in the market. Working according to the most ethical business practices, our company has successfully grasped a strong hold of the market. Moreover, this has also allowed us to attract more customers towards our company. Some major factors of our ethical business practices are as follows:
We have a team of researchers which carries out regular market analysis.
We ensure that every customers' requirement for products/services are deeply understood and then fulfilled accordingly.
We provide our products at market-challenging prices to our customers.
We ensure that every order is timely and most securely delivered to our valuable clients.
A company's presence in the market, can be reflected by the number of customers they are able to satisfy with their products/services. In our company, Gunina Engineers, customer satisfaction is one of the primarily focused factor. For that, we first understand the requirements of our customers and then to ensure that they receive the best of our products including PSA nitrogen plant, oxygen plant, ammonia cracker unit, desiccant compressed air dryer, co2 purification unit and their spare parts like as carbon molecular sieve, nickel catalyst, molecular sieve, activated alumina balls, activated carbon, ceramic balls, panel, silicon nitride balls along with electrical, instrument and mechanical items. etc., we have a team of extremely qualified professionals which works with utmost dedication and from manufacturing process till the final delivery of products, they closely monitors every procedure, minutely. Overall, this is how we ensure that every customer receives the most premium quality of product from our end.
return false;">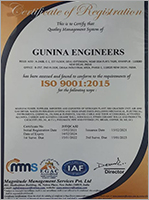 Read More